Golden Opportunity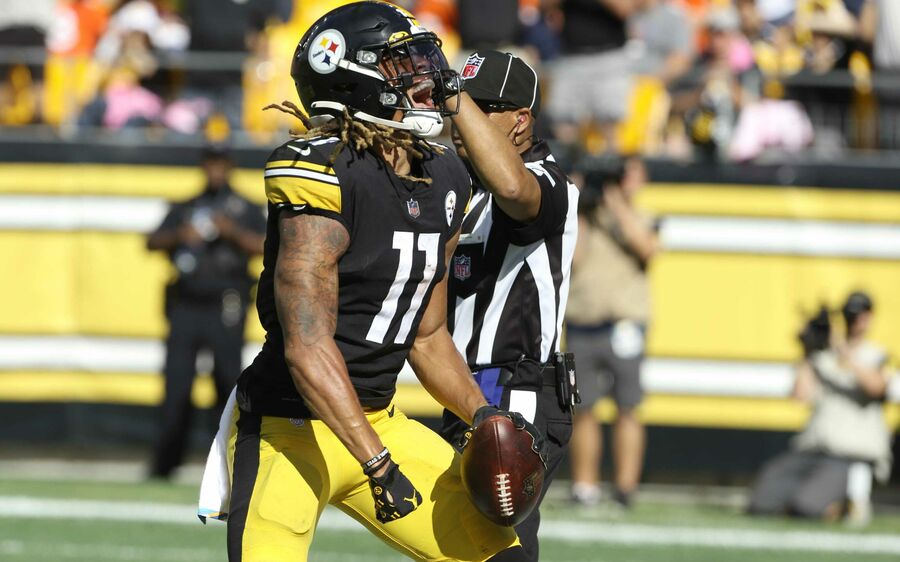 Steelers WR Chase Claypool has a chance to shine the rest of the season
With Notre Dame heading into a bye week and the quarterback situation more confusing than ever, I am going to stay away from the Irish for a week. Brian Kelly and the offense have me thoroughly perplexed, and before I put my foot in my mouth again with predictions about who will start at quarterback or what BK needs to do, I am just going to leave them alone. We will revisit Notre Dame football next week ahead of the matchup against USC.
I will turn my attention, therefore, to the Irish in the NFL. Notre Dame players have been in the news a lot lately, with former All-Pro linebacker Jaylon Smith being cut from the Cowboys before being signed by the Packers and rookie tight end Tommy Tremble recording his first receiving touchdown for the Panthers this weekend (he did have a rushing touchdown earlier in the year).
That being said, I want to focus on Pittsburgh Steelers' second year wideout Chase Claypool, who stepped back into the spotlight with a monster performance on Sunday. Claypool caught five of six targets for 130 yards and a touchdown against the Broncos, his first 100-yard game and first touchdown of the 2021 season. He did have 96 receiving yards on a season-high nine catches in Week 3 before missing Week 4 with a hamstring injury.
But beyond the season-best performance on Sunday for Claypool, fellow Steelers WR Juju Smith-Schuster suffered a season-ending shoulder injury against the Broncos. Smith-Schuster will undergo shoulder surgery that will leave him sidelined for four months. The injury to Smith-Schuster is obviously a huge blow for Pittsburgh – who is already struggling after a dismal 2-3 start to the season – but it does provide Claypool with the opportunity to take on an expanded role within the offense.
Last season, Claypool finished with 62 receptions for 873 yards and nine touchdowns. Through the first four games that he has played in this season, he has 20 receptions for 341 yards and one touchdown. This puts him on face for an 80 -reception, 1,300+ yard season. These numbers would put Claypool around the top 20 of most receiving yards through a receiver's first two seasons in the league. However, with Smith-Schuster out of the lineup for the entirety of the season, Claypool could easily exceed these numbers and climb this ladder even further.
Claypool is used to challenging receiving records. At Notre Dame, Claypool ranks seventh all-time in total receptions, 11th all-time in receiving yards, and ninth all-time in receiving touchdowns. He was Ian Book's favorite target during Claypool's senior year in 2019, and he has developed into one of Big Ben's favorites as well in just two years in Pittsburgh. His freakish frame – six-foot-four, 238-lbs – make him an easy target to find and a matchup nightmare for opposing defenses.
But I guess what I am most excited about for Claypool is what the opportunity to have an increased role this year can mean for seasons going forward. Smith-Schuster re-signed with the Steelers on a one-year, $8 million contract for this season after initially testing free agency. He made it very public that he hoped the higher salary cap would allow him to sign a larger contract in 2022, but given his injury, this may not be in the cards. The injury and higher pay demands make me think that there is a very small chance that Juju returns to Pittsburgh next season, especially if Claypool and third-year receiver Diontae Johnson can step up in his absence. If Claypool plays well, he could solidify himself as the number one guy in Pittsburgh for years to come.
Obviously, you never want a teammate to get injured, but the loss of Smith-Schuster provides Claypool with a unique opportunity to assert himself as the number one receiver on a team that desperately needs offensive production. Who knows how long Big Ben will be under center in Pittsburgh? Given that the Steelers have not drafted a replacement for him, they may be aggressive in free agency to bring in a QB that can start right away. Whoever this may be, they will be lucky to have Claypool as a weapon.
I think the remaining 13 games of the 2021 regular season provide an incredible chance for Claypool to grow into the star receiver I believe he can be. Speaking of that higher salary cap, Claypool will be halfway through his rookie contract after this season, but if he can vault himself into star receiver territory, he could set himself up for a nice payday in a few years. We love to see the Irish succeeding at the next level, and the Notre Dame product can really make himself a household name with the opportunity to step into the spotlight in Pittsburgh the rest of this season. If you have him on your fantasy teams, start him. If you're a Steelers fan, treat him well. Go Irish.