March Madness Update: Elite Eight (Day One)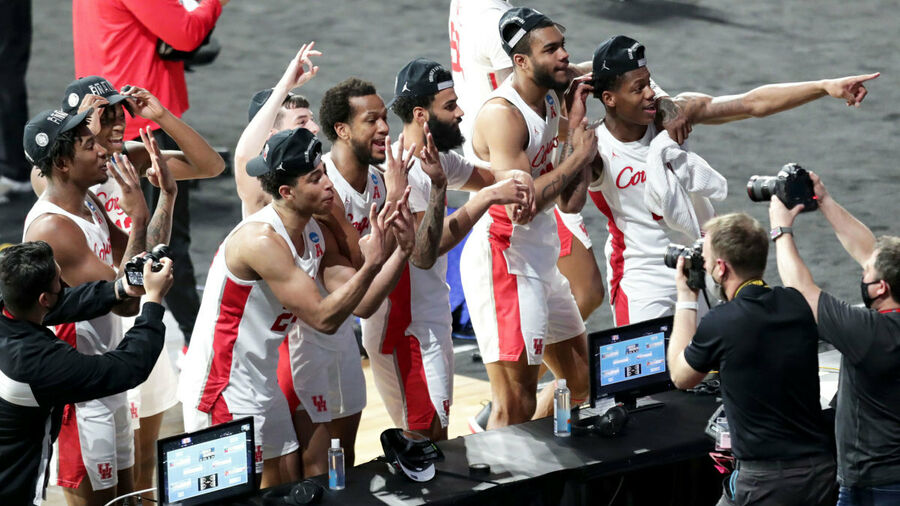 350 Division I schools started their seasons with the goal of reaching the NCAA Tournament; today, two teams cemented themselves as members of the top-four programs in America for the 2020-21 season.
A blowout-turned-nail-biter kicked off the processions while a battle between two heavyweights in the South Region had a raging finish, defined by one prolonged defensive stand.
In 24 hours, the Final Four will be known: which two ball clubs will join today's winners remains to be seen.
Game One
#2 Houston 67, #12 Oregon State 61
After almost blowing a 17-point lead, the Cougars squeaked out a narrow victory, returning to the Final Four for the first time since the Phi Slama Jama days of Hakeem Olajuwon and Clyde Drexler in 1984. Beavers Ethan Thompson and Gianni Hunt committed big turnovers in the final 60 seconds, allowing Houston to tack on the game-clenching free throws.
The Cougars were astounding defensively in the first half, only allowing 17 points to their opponents. Houston also rebounded 19 of their 42 missed shots (45.2%) in the ballgame, while the Beavers were limited to just seven second chances on the offensive glass.
Marcus Sasser led the Cougs with 20 points, while Quentin Grimes pitched in with 18 and Daniel Jarreau put up 10 points, eight rebounds and eight assists. Houston is yet to face a single-digit seed in the tournament after facing #15 Cleveland State, #10 Rutgers, #11 Syracuse and #12 Oregon State; this will change drastically during Saturday's Final Four matchup.
Game Two
#1 Baylor, #3 Arkansas
The Bears raced past the Razorbacks courtesy of a high-flying start and excellent marksmanship from beyond the arc, advancing to their first final four in 71 years. Baylor sank eight of 15 threes while Arkansas was held to just 3-11 from deep.
Macio Teague was the hero of the evening with 22 points and five rebounds, while Jarod Butler and Davion Mitchell combined for 26 points and 11 assists. JD Notae tied for a team-high 14 points for the Razorbacks, along with Davonte Davis, but fouled out early in the second half— his presence was severely missed after providing a serious spark from the bench in the opening period.
Arkansas had been down by 17 but bullied themselves back to a four-point differential, only to miss 10 consecutive shots from the 9:34 mark to the final 1:20. Baylor kept their composure after losing Davion Mitchell (who later returned) in the first half and in the face of Arkansas' run, pinning a couple of late-game shots on the backboard and getting easy looks at the cup. Baylor once again looks like the second-best team in the nation.
Tomorrow's Games
#1 Gonzaga vs #6 USC
#1 Michigan vs #11 UCLA