Cheers and Jeers: Virginia Tech vs. Rutgers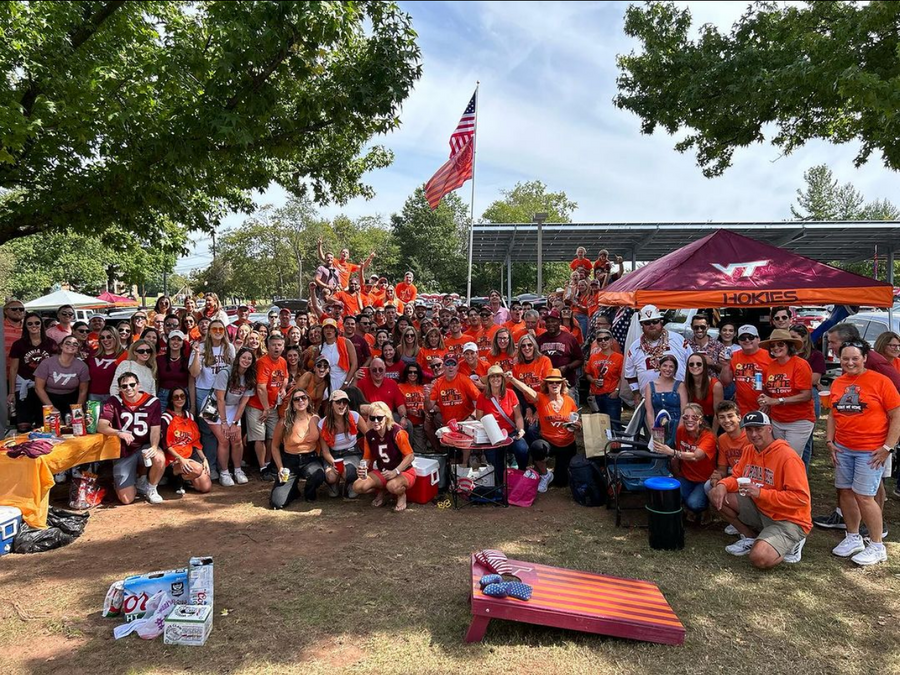 I joked with Billy Ray in the stands at halftime that, "I came all this way and all I got was this lousy t-shirt." Neither of those things is true of course. I happen to like the shirts we sold for this game, and I got much more fellowship and football out of the deal as well. Thanks to everyone who came out to the SOS tailgate and a special thanks to those of you I assisted in finding their pre-ordered shirts. Between Pete's music and my mild lack of sobriety, it was a recipe for, "What? Huh? Uh yeah sure. Take whatever!" Your patience is appreciated.

Shout out to the folks sitting around me for a lovely time despite the result —including the Finns in front of us! I also appreciated Grant, who disappeared immediately after I finally remembered his name sometime in the second half. We had some cogent football talk before that. And to the couple from Philadephia, thanks for sharing my gripes about the train whistle and that story about trying out for the Hokie Bird.

As for the football...well the weather was nearly perfect!

Cheers
New Quarterback, Who's This?
With an injured Grant Wells relegated to the sidelines Kyron Drones made his first start for the Hokies and overall it went fine. Actually, my description is likely the same as it was for Wells so far this season. Drones made some incredible throws, some mediocre ones, and also had two costly turnovers. The difference is Tech was able to finally spark some life into the rushing attack with Drones in the mix. He ran for 74 yards and Bhayshul Tuten averaged 4-1 YPC to help Tech finish with a season-high 129 yards. Grant Wells can run a little, but the defense clearly had more respect for Tech's read plays with a genuine run threat out there at QB.

For that reason alone it feels like Drones needs to play the rest of the way. It's unfortunate because Wells didn't really play himself out of things. Still, with two imperfect guys who we know were neck-and-neck for the starting job you've got to go with the mobile option. I do want to be clear, I don't think this is a magic answer at all. Tech has two talented and flawed QBs. The offense is likely to continue to struggle even with a switch but I think there is a bit more potential with Drones leading the way.


The Defense Is Trying To Hold It Down
The defense really played hard in the first half especially. They were fast and physical and I noted several times where there were multiple hats on the football for either an immediate tackle or pass breakup. The group is relying a ton on youth and that certainly shows as well. Still, it's easy to watch these guys and see growth. I share the opinion that Chris Marve is a great young coach and he seems to be making the best out of the group he has.

You might say loudly, "Are you out of your mind?! Rutgers ran all over us!"

This is true and kudos to Greg Schiano's club for doing exactly what they planned to. They ran the ball with impunity then mixed in just enough timely passing and efficiency to win by multiple scores. In other words, the Scarlet Knights are the blueprint of what coach Pry would like his program to be. He just doesn't have the pieces needed to do it right now.

Still, I like a lot of what I see from the D and look forward to improvement as things roll along.


Offense On The Move
The Hokies were actually able to move the ball a fair bit and control the clock, winning the time of possession battle for the first time this season. Tech also racked up 18 first downs and converted on a couple of fourth downs. Don't get me wrong, it's still not good. Things were only marginally better on third downs this week at 5-for-15 and after two games against P5 opponents, the Hokies are averaging a meager 16.5 PPG. Wait, I thought this was supposed to be a positive point?


Jeers
The Offense Belongs In This Column Too
I thought there were some encouraging signs with this unit but the turnovers and yet another slow opening stanza doomed the effort from the first snap. The Hokies scored three points in the opening half and posted another gooseegg in the first quarter to bring the season-long opening quarter scoring total to two points.

The fact that this is no longer a worrisome trend and is now just who the program is should concern folks. Yes, the team rallied again and looked fully functional, even good during a desperate comeback bid. But these early holes make it all for naught. Maybe just swap the two-minute offense with whatever's scripted for the first couple of drives because it's just not working.
Whistle While You Work
SHI Stadium —which is an unfortunately spelled sponsor if you ask me— is one of those places that employs a train whistle on big downs and kind of whenever they feel like it which makes perfect sense given their Scarlet Knights moniker. They blasted that thing more than actual trains do and it will haunt my dreams for some time. I'm fairly certain that's a violation of the Geneva Conventions in spirit at least if not in practice.

A sarcastic hat tip to the fellow elder-millennial manning the soundboard on the music though. The insistence on playing Saliva's 2001 tune Click Click Boom at every opportunity is both wrong and begrudgingly respected. I may make it my new phone alarm so that I can start the day in a blind rage without even needing coffee.


Final Thoughts
Yeah, this doesn't look promising. I had some other jeers but I'm not sure I care to wallow in the depths on this rainy Sunday evening. While I remain open to the absurd possibilities of college football in any given week it's clear that this is not a good football team. The offense desperately has to start scoring more or the possibility of not winning again this season becomes quite real. That might seem alarmist but even the "lesser" teams on Tech's schedule like Boston College and UVA have shown plenty of fight. I fully expect Marshall to be favored next weekend at home and you can't blame anyone for thinking that.
I actually heard an older Rutgers fan musing about their own prospects on the way out of the stadium. "Now we're done with the easy teams. Next week it gets tougher."
Granted, yes they're going to get lit up by Michigan next week but man that hurts. It's no secret that the Virginia Tech program is at the lowest tide we've seen in decades but it's still rough to hear the quiet part out loud at a game in Piscataway.
For now, I think it's best to take a throat lozenge and hope I sound like a human being at work in the morning.
And if you'd like a more positive finish, take solace in the fact Tech has leaders like Josh Fuga.
It's worth a listen.