Good Morning Football: Battle for the Black Diamond Trophy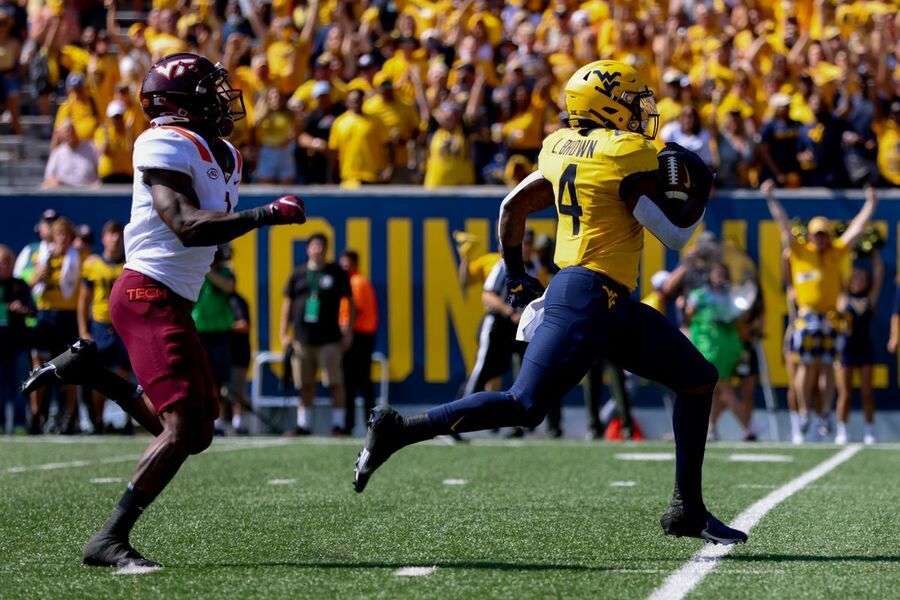 Week 4
Wake up Hokie Nation, gameday is upon us! It's week 4 of the college football season for the Virginia Tech Hokies as they face the West Virginia Mountaineers in a 7:30 pm est primetime matchup being aired on ESPN. The Hokies will kick off this week's slate of college games and look to extend their season win streak to 3. Week 3 of the Hokies season saw what was an expected victory against FCS opponent Wofford. The Hokie defense stood strong once again only allowing 7 points and allowed for some of the younger guys to get some gametime reps. The offense looked the best it has all season as Grant Wells threw for a little more than 300 yards and 2 TD's, which were both first career touchdown catches for Bryce Duke and Jaden Blue who supplied the offense with great support. Although the offense didn't score as much as they wanted in week 3, expect Grant Wells to come out tonight slinging the rock.
Meanwhile for the Mountaineers, they have had nothing short of a confusing year so far. With losses to Pitt and Kansas in the first two weeks, they turned it around last week with a 65-7 rout of Towson in which they totaled 316 rushing yards and 6 rushing touchdowns. West Virginia has relied on their offense early in the season to compete in games with talented players like C.J Donaldson and Bryce Ford-Wheaton leading the Mountaineers offense. Look for them to try to establish their run game early and set up their play action sets.
It's going to be an amazing game in Lane Stadium tonight for the Black Diamond Trophy. The Hokies look to hopefully win it back!

Weather
Cool and partly cloudy weather for a fun afternoon of tailgating. Temperatures start to dip down a little near gametime so be sure to bundle yourself in some Hokie gear to stay warm.
Effect
The effect for the game tonight is Hokie Effect. If you are attending the game, be sure to wear either maroon or orange depending on where you are sitting for the game. Unlike previous years, Lane Stadium will be split in half by the Hokie Effect. To figure out which color to wear, look at the map below.
Things around the game
The festivities in Hokie Village will be on another level Thursday night, highlighted by a 90s-themed throwback musical performance from Go Go Gadjet. Hokie Village will open at 4 p.m., and fans can visit different food trucks, check out activations from Coca-Cola, Carilion Clinic, Food Lion and Cooper Cheese, play tailgate games and get autographs from Tech Wrestling (5:30-6 p.m.). Hokie Village will close at 6:45 p.m.
Taken directly from Hokie Sports.