Hokie Game Preview & Prediction: Old Dominion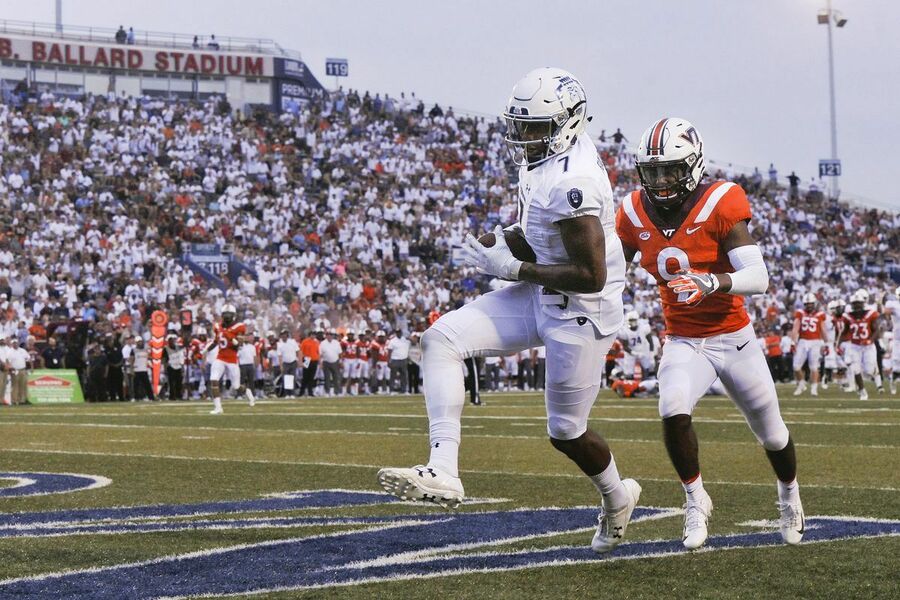 Game Info
Saturday, September 2nd
Old Dominion (+16) @ Virginia Tech (-16); o/u 48
8:00pm EST
ACC Network
The Opponent: Old Dominion
Head Coach: Ricky Rahne (second season)
Returning production: 74%
2022 Record: 3-9
On Offense
Offensive Coordinator: Kevin Decker

Who's playing QB?
Fordham transfer Grant Wilson will be the starting QB for the Monarchs in week one. A Virginia native and Yorktown High School alum, Wilson provides the Monarchs with solid size at 6'3" 217. In his two years at Fordham, Wilson totaled 93 yards and two touchdowns. Given Wilson's inexperience coming from an FCS program, one might ask: why is he the starting QB? Well, Ricky Rahne hired ex-Fordham OC Kevin Decker as his new OC. It is safe to say that Wilson has a strong understanding of Decker's offense. A pro-style QB, Wilson will get the ball out quickly and spread the field. It will be an early, yet manageable challenge for the Virginia Tech defensive backs.
Biggest Strength
Despite losing top WR Ali Jennings III to Virginia Tech, ODU has a revamped WR room. The Monarchs next three leading receivers from a year ago come back: Javon Harvey, Jordan Bly, and Ahmarian Grainger (Maury). The Monarchs also added Virginia Beach native WR Myles Alston (Ocean Lakes) from Pitt,. Expect Alston to be active early. Despite not having much size at receiver, the Monarchs plan to utilize their speed and athleticism in the WR room – a room with lots of raw talent.
Biggest Weakness
The offensive line and RB room is filled with questions. The Monarch lost their top lineman Nick Saldiveri to the NFL. He departs from an offensive line that was already subpar last season. ODU also lost its top RB in Blake Watson, as the playmaker transferred to Memphis. With that being said, expect a slow running game – one that the Hokies' front seven should be all over. Expect Kadarius Calloway, a transfer from East Mississippi CC, to get a majority of the carries.

On Defense
Defensive Coordinator: Blake Seiler
Who's the Anchor on Defense?
Potentially the best LB in the Sun Belt conference comes from the Monarchs. MLB Jason Henderson returns to Norfolk for his junior season. Henderson accounted for an astounding 179 tackles a year ago. At 6'1" 227, Henderson is a force through the middle and will certainly be a challenge for the Hokies.
Talent at CB
ODU returns top nickel Shawn Asbury II. Hokie fans may remember this name as Asbury was an ex-Virginia Tech commit, who ended up flipping to Boston College, and ultimately transferring to ODU a year ago. Asbury finished 2022 with 32 tackles, 3.5 TFL's, and 1 interception. Expect Asbury to hold a big role for the Monarchs this season in his junior campaign. I am sure this game means maybe just a little bit more for him as well.
Biggest Weakness
The Monarchs lost a ton of talent on the defensive line. Alonzo Ford, Chazz Wallace, and Marcus Haynes are all gone. Ford is now at Penn State, Wallace at Colorado, and Haynes in the NFL. An almost entirely new defensive line should prove to be a challenge for the Monarchs. It will be interesting to see how Virginia Tech's offensive line, one which struggled last year, matches up.
Final Prediction
Under the incumbent QB Grant Wells and a revamped offense, Virginia Tech should have an easier time with the Monarchs than it did last season. ODU has not done enough this offseason to prove to me that it can beat the Hokies. But at the same time, who knows…because ODU did do it last year.
Virginia Tech 37 - Old Dominion 14