Hokie Hardwood: Coppin State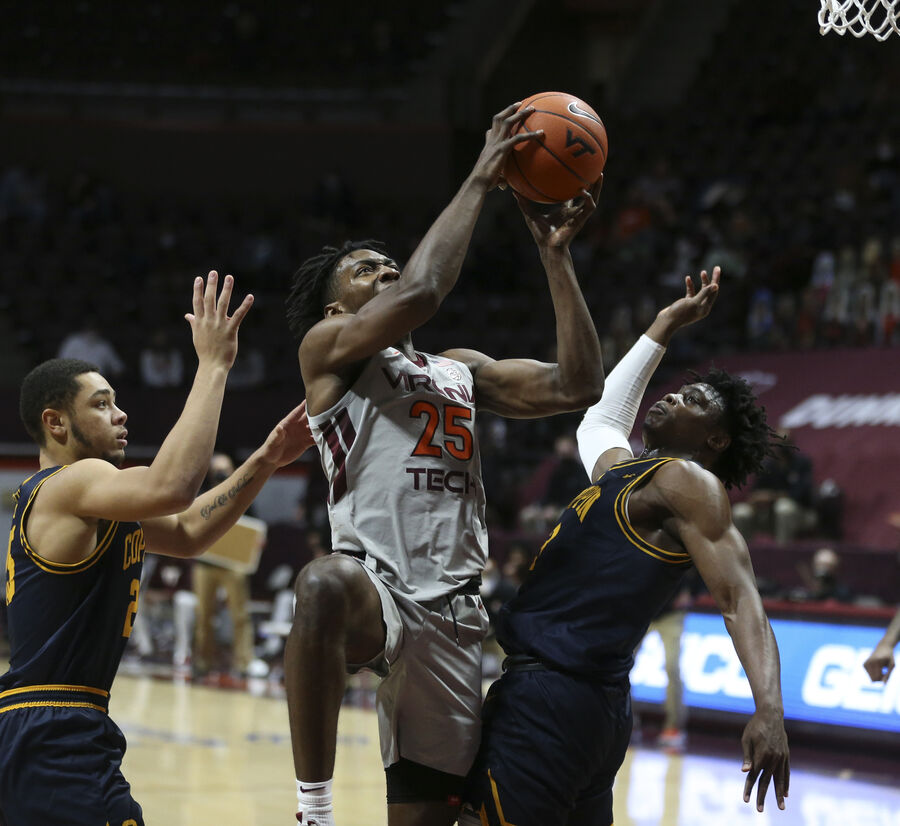 The Virginia Tech Hokies (6-1) defeated the Coppin State Eagles (1-6) in Blacksburg, Virginia Saturday evening, 97-57.
This outcome produced season bests for the Hokies in a number of categories: points scored, largest margin of victory and most threes made to name a few.
Head Coach Mike Young's squad managed to hold the visiting Eagles to just 36.4% shooting from the field and 19.2% from three, both significantly under their average allowances this season.
This was the fourth time and second year in a row that Virginia Tech had matched up against Coppin State. The maroon and orange have dominated the series thus far, winning each game by an average of 37.5 points.
Though the weekend bout was not viewed as a "trap game", it was an important measuring stick. The Hokies roster was talented enough to blow out the Eagles, and that is exactly what they did.
The Plot
Saturday's battle officially signified the return of the Hokies' deep ball as the home team drilled 20 three-pointers on 37 attempts (54.1%), the same amount of makes that they had in their past four games combined.
The ballgame opened up with low efficiency and high turnovers, a nervous start that Hokie fans have become all too familiar with this season. The visitors deployed a 3-2 zone and intermingled traps on the VT ball handlers that frustrated the home offense into committing early mistakes.
To make matters worse, Tyrece Radford found himself in early foul trouble and was very much a non-factor in the initial 20 minutes.
Despite the sluggish opening, Keve Aluma managed to knock the lid off of the basket on a sweet shot from behind the arc, slightly right to dead center. From there, the Hokies caught fire, making seven of their next 10 shots from three-point territory. This resurgence in marksmanship combined with intelligent bench play from Hunter Cattoor helped the Hokies' lead balloon to 17 points at the half.
The Eagles kept the game far more contested than the final score suggests: after Nahiem Alleyne split a pair of free throws to open the second half, Coppin State's Anthony Tarke recorded a layup, dunk, steal and dunk consecutively, bringing the Virginia Tech lead down to just 12 points. Fortunately for VT, they would go on to make eight of their first 10 second half perimeter shots, scoring at a pace that the visiting opposition had no hope of matching.
Coppin State continued their defensive intensity throughout, turning the Hokies over 18 times, but allowed a season-high 20 assists and failed to gain any offensive momentum of their own.
The lead eventually swelled to a staggering 49 points with two minutes left, allowing Mike Young to bring in a reserve of young players who have been limited in playing time thus far.
The Players
Nahiem Alleyne was the most consistent player in the weekend's defense of Cassell, netting 11 points in the first half and seven in the second. On top of his scoring, he contributed four rebounds, two assists and a steal, and seemed to constantly be ready to make the next big play.
Jalen Cone recaptured his form from Syracuse last year, also totaling 18 points (5-11 3pt) along with four assists. Cone managed to put a 1-5 shooting start behind him and continued to rise up with confidence, the sign of a player ready for tough postseason games.

Keve Aluma was his usual, steady self, posting 12 points and seven rebounds in an abbreviated night. The big man had a stretch early in the game where he scored seven points in a row and made key defensive plays, drawing multiple charges.
Hunter Cattoor seems to be the biggest benefactor of Cartier Diarra's COVID-related absence, spending more time with the ball in his hands and finding the freedom to shoot more consistently. The sophomore guard managed 11 points and tied a team-high five assists, proving his worth to the second unit.
Freshmen Darius Maddox and Joe Bamisile put up nine points in nine minutes each, with both players displaying a soft shooting touch and athleticism moving downhill. Should Longwood provide a lack of ability similar to Coppin State Monday night, it is likely that these two will receive more time to prove themselves again.
The Pretenses
Coach Young's outfit found themselves four days removed from a major bounce-back victory against #24 Clemson after falling to unranked Penn State the week before. Tuesday's victory over the Tigers marked the Hokies' first conference matchup of the year and the second time this season that they had toppled a top-25 foe.
Keve Aluma, Nahiem Alleyne and Tyrece Radford have been the major scoring threats for VT this season, averaging 14.8, 12.3 and 10.7 points, respectively. Hunter Cattoor and Jalen Cone have provided a pop off the bench, each being a threat to nail long-range shots in the quickest of moments.
Meanwhile, Coppin State's standout player this season has indisputably been Anthony Tarke: through his first six games the senior guard averaged 17.3 points, 7.8 rebounds, 2.5 assists, 3 steals and 1.3 blocks per game. Tarke is currently representing his third university but seems to have found his home, posting career highs across the board.
Despite entering with a 1-5 record, Coppin State has not been the easiest of opponents so far this season. After having their first two games against Marshall and Tennessee State cancelled, the Eagles played then #9 Duke to just a 10-point differential (albeit defeat), winning the second half by seven points. Prior to Saturday, their only blowout loss this season was a 48-80 drumming at the hands of Patrick Ewing's Georgetown squad, although even that loss does not seem so bad compared to what Virginia Tech unleashed upon them.
The Postgame
"He's a really good basketball player… probably the most responsible defender we have. Best guy of all time."
Coach Young complimented Nahiem Alleyne in his completeness as a player while also speaking highly of his attitude.
😭😭😭 miscommunication...was tryna get J Mutty the lob off the backboard and he told me to keep it lol

— Jalen Cone (@J15Cone) December 20, 2020
Jalen Cone, who disappointed fans by laying in a clear opportunity for a fast break highlight, set the record straight that he wanted to throw a lob, but was told to keep it himself.
Mike Young. Poppin' like Orville Redenbacher.

— Jon Rothstein (@JonRothstein) December 20, 2020
That's right: Virginia Tech's biggest fan in the national media kept the praise rolling for Mike Young who, yes, was reported to be eating popcorn before Saturday's game.
The Postgame
Virginia Tech's stomping of Coppin State was a welcome sight for supporters' eyes: the Hokies regained their shooting touch, bolstered their record and received positive contributions from every member of their active roster.
Though Cartier Diarra continues to be unavailable, the second unit has stepped up big in each of the two games that he has missed and do not seem intent on slowing down.
Coach Young will likely be looking to rest some of his high minute players on Monday when the Longwood Lancers (1-6) visit town.
A ranked, in-conference win combined with a thunderous defeat of a smaller opponent in the same week means that the Hokies should be hopeful of receiving an early Christmas present from the members of the AP top-25 voting committee.