Recruiting Series Part One: The State of Virginia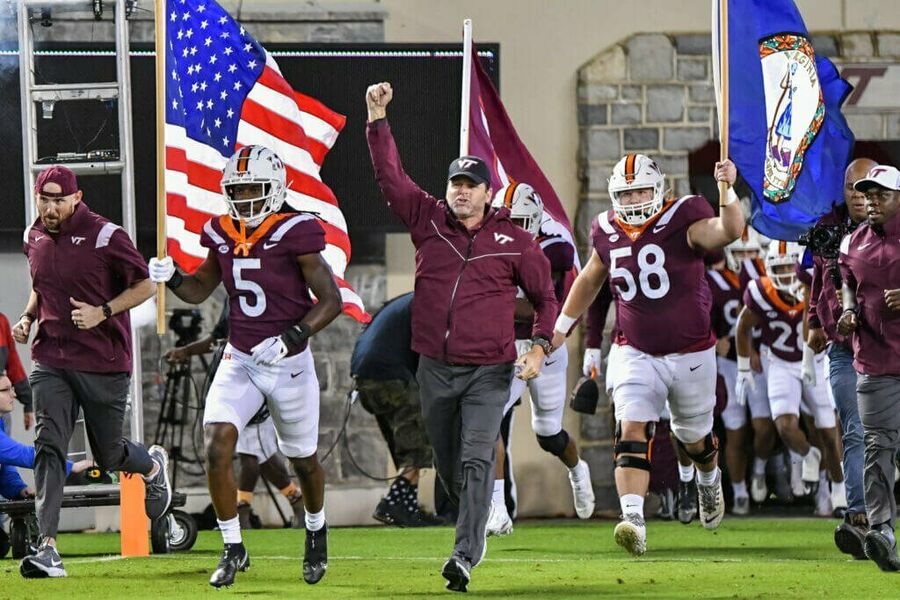 In this series of articles on recruiting, we are going to be taking a look at recruiting in Virginia and the Hokies relationship to that recruiting environment. Most fans of the program would say that we should prioritize the home state of the school, especially with the history of success Virginia Tech had with primarily in state athletes. The "glory days" of Virginia Tech football came on the backs of homegrown talent. Virginia has been a state where talent is rich. There are plenty of great high school programs and Virginia itself is consistently in the top 33% of active NFL players who hail from the state. The first entry in this article series will examine Virginia talent across the board at both the high school level and then translating to players from Virginia making it to the NFL.
According to 247 sports, in 2022 there are only 4 high school players in the top 300 who are from programs in Virginia. None of these players decided to stay home and play for an in-state program even beyond Virginia Tech. Below is a list of top 300 players by year using 247 sports composite rankings and when those were not available using the ESPN 300 and Rivals 250 rankings
| | |
| --- | --- |
| Year (Class) | Players from top 300 in Virginia |
| 2023 | 247 sports-4 // Rivals 250-2 |
| 2022 | 247 Sports 11 // Rivals 250-8 |
| 2021 | 247 Sports- 7 // Rivals 250- 6 |
| 2020 | 247 Sports-8 // Rivals 250-5 |
| 2019 | ESPN 300-9 // Rivals 250-6 |
| 2018 | 247 Sports -4 // Rivals 250-4 |
| 2017 | ESPN 300-8 // Rivals 250-9 |
| 2016 | ESPN 300-4 // Rivals 250- 4 |
| 2015 | ESPN 300-10 // Rivals 250-13 |
| 2014 | ESPN 300-11 // Rivals 250-8 |
| 2013 | ESPN 300-12 // Rivals 250-11 |
Here is also a list of all the Virginia recruits who signed NLI's with Virginia Tech by year in the top 300 players nationally.
2022- Gunner Givens (247)
2019- Jayden Payoute / Tayvion Robinson (Rivals 250)
2017-Devon Hunter / Dylan Rivers / TyJuan Garbutt
2015-Tim Settle /Austin Clark (Rivals 250) / Tremaine Edmunds (Rivals 250)
2014-Raymon Minor / Holland Fisher
2013-Wyatt Teller / Bucky Hodges
2012-Joel Caleb / Ken Ekanem / J.C. Coleman
2011-Corey Marshall
2010-Nick Dew / Zach McCray
While data was not available on 247 back before 2018 for some of the top rankings of recruits and there are some discrepancies between the ESPN top 300 and 247 top 300. The Hokies were much more successful in the 2010's landing in-state top 300 talent out of high school. Some names Hokie fans will know well like Wyatt Teller and Tim Settle who were big contributors in college and at the next level.
NFL Transition
State by state breakdown of NFL talent is dominated by the power players that those who follow the sport would expect. This data is compiled from where players were born not where they necessarily played football in college and it was gathered from pro football reference.
California- 221
Florida- 216
Texas- 216
Georgia- 160
Ohio- 98
Louisiana- 89
Alabama- 82
Pennsylvania- 82
North Carolina- 73
Illinois- 70
Virginia is 16th on that list with 47 current players born in Virginia on NFL rosters. This is just birthplace though, and it is not adjusted for population. Heavily populated states like Florida and California are unsurprisingly leading the way. Virginia sits about where you would expect given population but is firmly in the top third of the state produced players in the NFL.
Look ahead to talent in Virginia
This new regime under Brent Pry has made it clear that they will be prioritizing the state of Virginia. In his first full recruiting class there are 13 out of the 25 from the high school level who went to high school in Virginia. That number is similar to last year's class with 13 in state commits as well but way up from 2021 where we had just 8.
There are currently 5 players in the Rivals 250 and 4 players in the 247 top 300 national composite rankings (with another right outside ranked 301). For the extremely early rankings in 2025 there is 1 player from Virginia in the top 300 at 247 and 1 player in the rivals top 100 for 2025 at this point. Forecasting that far in advanced is a fool's errand and even rankings from 2024 will likely be in flux as more tape comes out on these prospects. It is also important to note that it is not always top end ranked players from Virginia who come in and make the biggest impacts. Guys like Terrell Edmunds and Greg Stroman who were both NFL players were not ranked nationally coming out of high school. This coaching staff has been on the move in Virginia reestablishing connections with high school programs like Highland Springs, Oscar Smith and other programs known to be mainstays in the top of the Virginia rankings with multiple players garnering top 300 rankings nationally.
The next article in this series will zoom in a bit to examine where the talent is coming from in the state of Virginia. Hokie fans will remembers fondly the pipeline from the Tidewater region of Virginia that produced greats like Michael Vick and DeAngelo Hall. The landscape of Virginia though is changing. There is still big time football in the 757 as always but talent coming from Richmond and Northern Virginia is on the rise and we will take a look at where these players are going and their future.