Spring Football Takeaways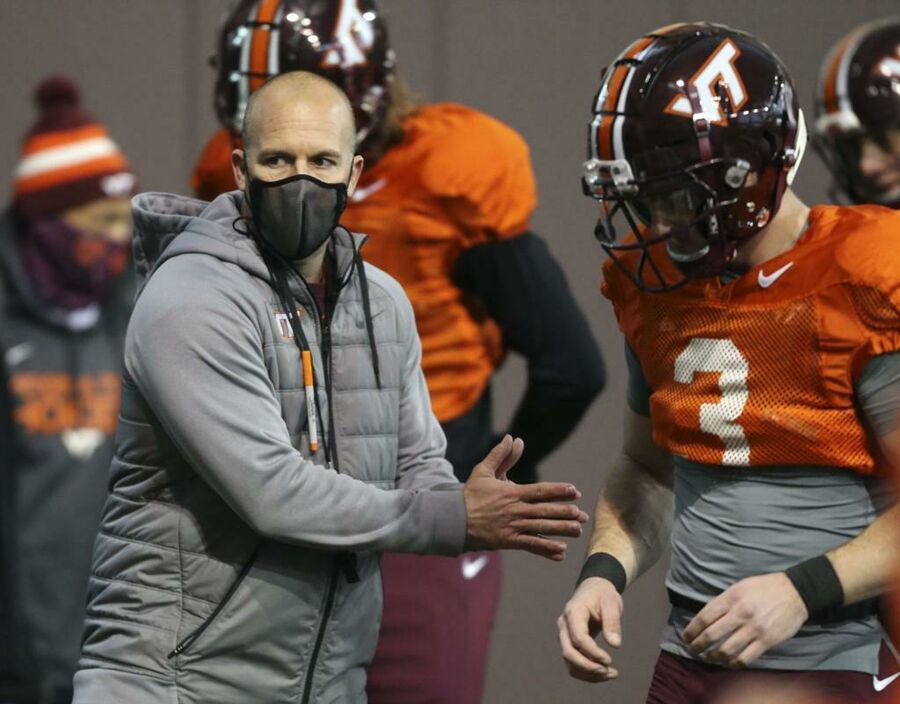 Spring football is done and dusted in Blacksburg this year, yet there are a number of key storylines that remain.
Evan Norris and Grant Mitchell share their major takeaways from this year's spring sessions, and what Hokie fans should pay attention to heading into the 2021 fall campaign.
Separation Between Starters and Backups
One of the biggest headlines from the brief spring season was Head Coach Justin Fuente's remarks about the disparity between his starters and backups, caused by a lack of effective recruiting and movement in the portal.
"There is too big a difference between our 1s and our 2s. We have got to move those two groups closer together for us to have a chance to have success," said Fuente.
Efforts to decrease the distance between the units will be furthered by Tuesday's announcement of the "Reach for Excellence" initiative, a five-pillared attack to bolster Virginia Tech athletics, but the immediate future seems endangered by a lack of depth. This will allow lesser known players to step up and carve out a role for themselves, though it could also present a major problem for the team next fall.
Changa Hodge Tears his ACL
Despite only totaling three receptions for 25 yards in three appearances last season, Hodge was expected to be heavily involved in a talented receiving corps this season.
The former Villanova Wildcat hauled in 65 receptions for 1,118 yards and 13 touchdowns in a stellar sophomore campaign, his final year in the Northeast, showing his talent level. Hodge's injury compounds Fuente's comments about the lack of depth in multiple positions, and leaves Tre Turner and Tayvion Robinson as the only proven wideouts on the roster— the next receiver in line, Kaleb Smith, only came down with eight catches last season.
Although Hodge's injury is set to hold him out for the entirety of the 2021 season, Justin Fuente confirmed that outside of a few bumps and bruises, the rest of the team is good to go.
New Arrivals Stand Out
The Hokies received an injection of talent from the transfer portal this offseason, most notably in the form of defensive tackle and Clemson transfer Jordan Williams. The Virginia Beach native and former four-star recruit was an All-American in high school, and although he was unable to hold down a consistent starting spot at Clemson, brings tremendous experience and pedigree to the Hokies.
Lining up at an enormous 6'4, 310 pounds, Williams' impact on the Hokies' defense will best be felt by clogging the point of attack and stuffing the run. All signs indicate that Williams is thrilled by the prospect of earning consistent playing time and being a featured member of the defensive unit, with a professional future in the cards if he can stand out as he is projected to this coming season.
Another new arrival, safety Tae Daley, has received high praise from his new teammates.
"He's wired differently... I'm excited to see what he does on the field," said linebacker Dax Hollifield.
The departures of Caleb Farley and Divine Deablo created vacancies in the Hokies' secondary, and Daley looks to be well on his way to becoming a major benefactor. A former Vanderbilt Commodore, Daley amassed 102 tackles and three interceptions from the safety position in his sophomore and junior seasons before transferring to Tech. He is very much a downhill player who does not shy away from contact and will be a physical presence beyond the initial level.
No Spring Game...Again
It was announced that the Virginia Tech Football team would not be hosting a spring football game for the second year in a row. This was due to COVID-19 precautions that may put fans in harm of potentially contracting the virus, as said by Athletic Director Whit Babcock. As you could imagine, the fanbase was quite upset about this decision because of COVID-19 restrictions lightening up in the state of Virginia. However, this was a safe and secure decision made by the athletic department to ensure the safety of our fans.
What does this mean for our team going into summer? In the simplest terms, nothing. The spring game has always been used in the past as a way to bring in fans to engage with the football team during the offseason. It is not limiting our players in any way, as the spring game is just an over-glorified team scrimmage. And although it is just that, this doesn't mean that some of the fan's feelings aren't warranted. This time for many fans is a time to return to Blacksburg to spend time with family and friends. The frustration is understood but know this shouldn't limit our team in anyway.
New Recruits, New Talent
Early enrollees are the talk of the campus during this spring practice round. Reigning from the 2021 recruiting class, the Hokies have seen a lot of early promise from DB Jalen Stroman and WR Da'Wain Lofton.
Jalen Stroman may sound like a familiar name to Hokie fans. And they would be correct, Jalen Stroman is younger brother to Hokie legend Greg Stroman. The early enrolled defensive back has received praise from Head Coach Justin Fuente for his ability to mesh in with the defensive unit way ahead of what was projected. Some of the talks surrounding Jalen Stroman are that he may be ready to take on such a responsibility of playing a single-high safety further down the line if needed. Thinks are looking up for Jalen and his future here in Blacksburg.
For Da'Wain Lofton, things pretty much sit at the same in terms of future applications for the team. Thus far, we have seen Da'Wain Lofton play excellently well against his counterparts in spring practice. This has gotten to the point where Da'Wain has received some reps with first-team offense throughout the spring. This young wide receiver from Texas is showing out early for this Virginia Tech WR core that is led by Jaden Payoute, Tre Turner, and Tayvion Robinson.
September 3rd
It was announced on April 12th that the Hokies will be opening up the 2021 Football Season against conference opponent North Carolina on September 3rd. This will place the Hokies against the Tarheels in Lane Stadium on Friday night of Labor Day Weekend.
Last year, the Hokies fell to the Tarheels on the road in a tough outing that ended with a final score of 56-45. The Hokies look to change the narrative this year with a huge home opener and want to start the 2021 season with a win. Also, it is important to understand that many are projected the Tarheels to take the ACC Coastal Division this year for the first time since 2015. This will be perhaps the most important game on the schedule this year for Virginia Tech.