The QB Conundrum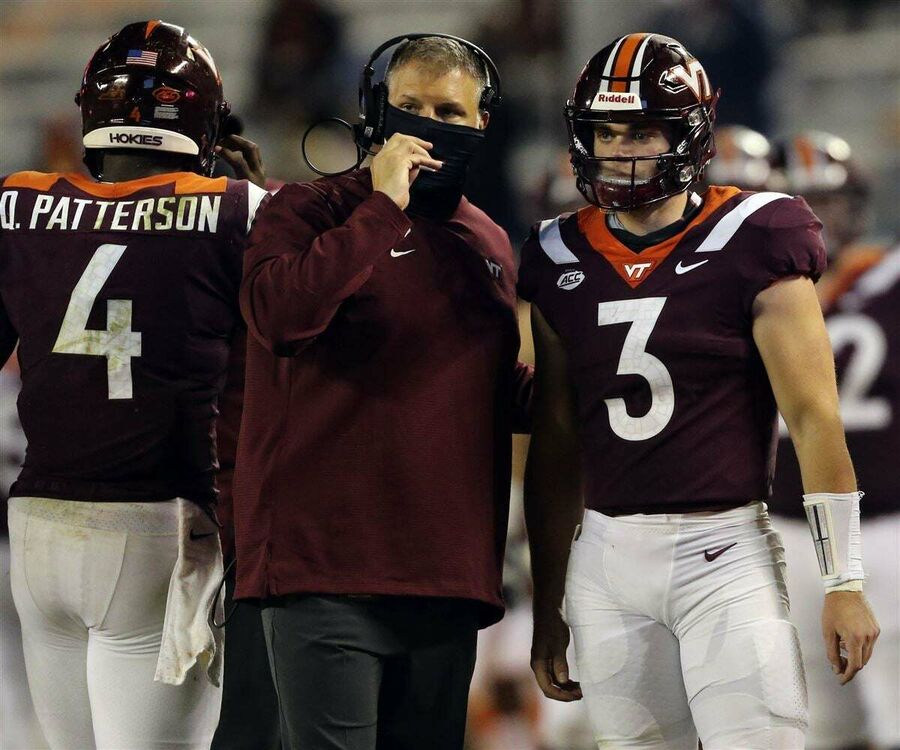 "Sure, luck means a lot in football. Not having a good quarterback is bad luck."
As two-time Super Bowl Champion Don Shula points out, there is no position of greater importance on a football field than the quarterback.
And for Virginia Tech, they have struggled to find consistency at QB in recent seasons.
When Justin Fuente was hired before the 2016 season, he brought along with him to Blacksburg a reputation for developing NFL-caliber QBs. He had been 10-year NFL veteran Andy Dalton's offensive coordinator and QB coach at TCU and had just groomed Paxton Lynch into a first-round pick while the head coach at Memphis.
Fuente also hired Lynch's QB coach, Brad Cornelsen, to hold the same title as well as be the offensive coordinator for his new staff at Virginia Tech.
For a program that has seen the likes of Michael Vick, Tyrod Taylor, Jim Druckenmiller, and Bryan Randall play the position, Hokie fans were rightfully excited about the potential QB play they would see under the new regime.
In 2016, the fans got what they wanted. Fuente and Cornelsen brought in JUCO transfer Jerod Evans, and he was nothing short of electric.
Evans complied 4,398 total yards and 41 touchdowns as he led the Hokies to a 10-4 season, which included winning the Belk Bowl and coming 23 yards away from upsetting eventual National Champion Clemson in the ACC Championship.
But as Evans made the puzzling decision to declare for the NFL Draft, the downfall of Virginia Tech's QB development commenced.
As Evans departed a year earlier than anticipated, the Hokies turned to redshirt freshman Josh Jackson to lead the team. From there, the Hokies never saw anything resembling the phenomenal QB play they got from Evans.
The team spent the next four seasons cycling through five different starting QBs, including Jackson, Ryan Willis, Hendon Hooker, Quincy Patterson, and Braxton Burmeister. Each player had their own gifts as passers and/or runners, but none was able to lead VT's offense to where it was in 2016, in which the Hokies finished 33rd nationally in scoring offense.
With Evans failing to get drafted and not dressing for a single NFL game, Dalton losing his starting spot for the Bengals, and Lynch's career sputtering into the Canadian Football League, the Hokies needed a QB to get drafted in order to salvage Fuente and Cornelsen's reputation for QB development.
That still has not happened.
Since Fuente/Cornelsen's first season in 2016, seven of the 14 ACC teams have seen a QB get drafted, while the other seven have not. The Hokies are part of the latter group.
Additionally, eight ACC teams have QBs who graduated in 2016 or later currently on active NFL rosters or practice squads; again, the Hokies are not one of them.
This means the Hokies are, at best, middle of the pack in their conference in producing NFL signal callers under their current coaching staff.
What causes this stat to become even more disheartening is looking at where the Hokies' QB recruiting has stacked up against other ACC teams. Despite the criticisms that have recently surrounded Virginia Tech's overall recruiting, there is no denying Fuente and Cornelsen have done well to put talented QBs on the roster.
Looking at the 247 Composite rankings for every QB that has started a game for every ACC team since 2016, one will find that only three teams' starting QBs average a higher rating than VT's.

The Hokies' starting QBs since 2016 - Evans, Jackson, Willis, Hooker, Patterson, and Burmeister - have an average of a .8892 composite ranking, which is .0008 points shy of a 4-star QB. The only three teams with higher average ratings are Clemson, Florida State, and UNC.
With the Seminoles having the same (if not worse) QB development issues in this span and having no current NFL QBs, this means six (of the eight referenced earlier) ACC teams have seen less talented QBs than Virginia Tech's come through their program and end up in the NFL.
Why aren't these talented Hokie QBs making it to the big league? A lot of it may come down to their lack of field vision and pocket presence, two qualities NFL teams clamor for.
Ultimately, these downfalls also lead to the frustrations many Hokie fans have had with the team's offense over the last 4+ seasons. These have most recently exemplified themselves in the Hokies' three previous games.
Virginia Tech's offense put together three mediocre-at-best performances in those games, carrying only a 14-10 halftime lead against a subpar Middle Tennessee, scoring zero points on three separate trips inside the 10-yard line against West Virginia, and only scoring two offensive touchdowns against FCS opponent Richmond.
Much of the 2021 Hokies' offensive struggles have come due to a lack of a downfield passing attack, led by Burmeister.
According to the Pro Football Focus player grading system, Burmeister's grade as a passer in those three contests was 53.2, 56.5, and 62.6 out of 100, respectively. For reference, those numbers as a player's overall season rating would be good for 134th, 123rd, and 99th among FBS QBs. Burmeister's overall season rating as a passer is 64.6, which is 90th.
Keeping on that same brainwave, the PFF passing grades have not been friendly to the Hokies in recent years.
After Evans was given a 75.2 grade for his efforts as a passer in 2016, similar production has been scarcely seen. Here are the PFF passing grades for the Hokies' primary starting QB every year since 2017:
2017: Jackson, 62.8
2018: Willis, 64.8
2019: Hooker, 76
2020: Hooker, 69.1
Each of these ratings is average to below average compared to the rest of the country.
Even during the best season - Hooker in 2019 - the Hokies' passing offense was graded 78th in the FBS. After tying for 37th in 2016, the highest the team's passing grade has been since is 54th in 2020.
Though each starting QB under Fuente has found success running the ball, they clearly have not been able to pass the ball as efficiently as needed.
A reason for this may come from a lack of preparation. Patterson, who is now the starting QB for North Dakota State after transferring this offseason, spoke about this on his podcast, "Herd You."
"(Practice at NDSU) is definitely a grind. It's a little different than it was at Tech. We get a lot more reps here... with the reps at practice, you're always doing something and putting work in. In other places, you get a lot more leisure time and it's a lot less of a grind.
With Patterson now in a program that has produced two top-five draft picks from its QB room since 2016, he is speaking as a witness to the standard for true QB development.
Patterson's career at VT may have been the greatest failure of the Fuente/Cornelsen era, as Patterson had the highest 247 Composite ratings between each of the QBs from 2017-present.
Yet Patterson only started one game in his career, and though he was the hero in the 2019 6OT game against UNC, his other appearances were sporadic and run-heavy.
It was likely known Patterson would be a project, given his non-traditional football upbringing. He played high school football in Chicago, where year-round reps are not as readily available as they are in more southern areas.
But his size, arm, and athleticism surpass any QB the Hokies have had under Fuente, and the end result was a severely underused asset due to a lack of intensive development.
Patterson's lone start - a 21-20 loss at Notre Dame one week after his heroics in 2019 against UNC - he completed only 32 percent of his passes for 132 yards, one touchdown, and one interception. It was clear Patterson had not been properly prepared to play in that game.
One can look across the board and find similar occurrences, where Hokie QBs face adverse defenses and do not have the training to overcome them.
After a strong start to 2017, Jackson sputtered down the stretch, completing 55.4 percent of his passes in the team's final five games, throwing three touchdowns and five interceptions. The offense averaged 16.6 points per game during that stretch, going 2-3 against Miami, Georgia Tech, Pittsburgh, UVA, and Oklahoma State.
Willis threw at least one interception in nine of his 15 starts for VT, including throwing three against Boston College in the first game of the 2019 season. The Hokies lost that game, 35-21, against a team that would go 6-7 that year.
Hooker has by far been the most efficient passer since Evans, but even he had his struggles. Most notably, two losses in 2020 to Wake Forest and Miami, in which the opposing defensive lines took away Hooker's ability to get out of the pocket. Hooker could not read the defense well enough to move the ball down the field, and the Hokies lost both games, scoring only 16 and 24 points. Hooker's PFF passing grades for those games were 48.0 and 46.5.
And now Burmeister has the reigns for the Hokie offense, and much like his predecessors, he is trotting onto the field without the proper preparation.
Here we see the Hokies try to run the glorious "Pop Pass" play to Raheem Blackshear.
If Blackshear was able to come up with this ball, he would have had "Nothing but Clean Mountain Air in front of him" as Jon Laaser would say.
But one can easily see the hesitation Burmeister has as he pump-fakes and throws a halfhearted pass off his back foot, completely missing the wide-open target. On a specifically designed play like this, a college QB should have practiced it enough to know exactly when and where to place the ball, but Burmeister did not.
In this play, we see the same thing.
Burmeister has a specifically designed play to throw a wheel route to Drake DeIuliis, and he misses it. Much like Blackshear in the earlier play, DeIuliis would have run untouched to the end zone.
Again, one has to wonder how often this play was rehearsed for Burmeister to not know where to put the ball.
Ultimately, Hokie QBs have now spent over four seasons being severely underprepared as passers, and they are not reaching their full potential.
Jackson, Hooker, and Patterson have all transferred away from the program, and no QB who has finished his career in Blacksburg has had any real hope of getting signed to an NFL roster.
All the while, the Hokies have suffered as a team because of it. The Hokies are 18-19 against FBS opponents since 2018.
The Hokies have a real problem with the most crucial position in football, and if they want their play on the field to improve, it must be addressed, and quickly.