The Scribes Weigh In: Blacksburg's Best Spots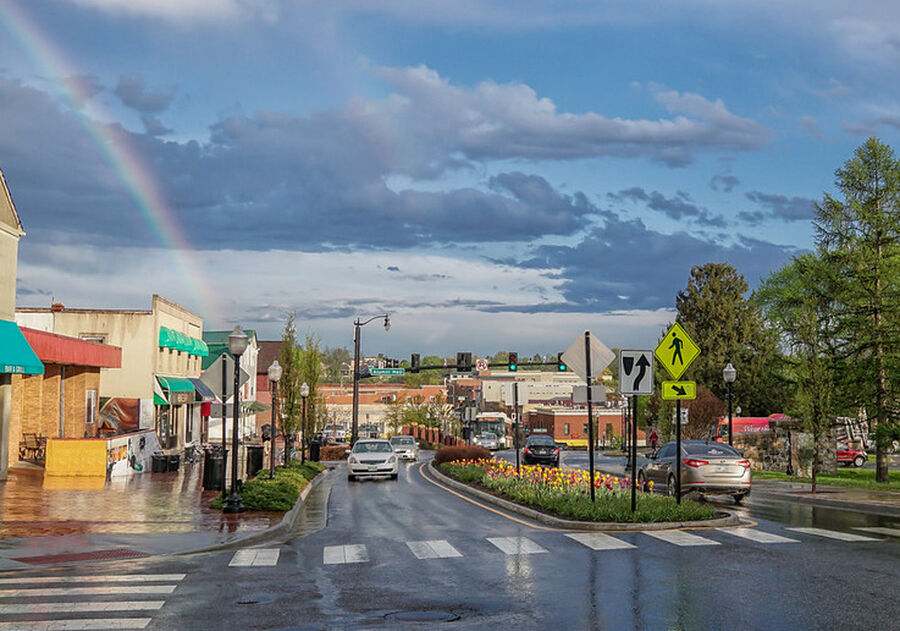 One of the best parts about being at a school like Virginia Tech is learning about the town of Blacksburg, and forming a special connection with your four-year home.
Whether you are a social butterfly, are in need of a quiet space to study or are looking for somewhere new to explore, there is enough to offer for everyone!
Today, as the college world recovers from madness of the Final Four matchups Saturday night, a few of the scribes decided to share their favorite places to be in Blacksburg, and why these locations are so special to them.
The scribes weigh in:
Evan Norris
The Pylons
What is a Hokie? Every single Virginia Tech fan, alum, or student should know the answer to this simple question. And the answer is quite simply a Virginia Tech fan. However, it is one thing to be a Hokie and it is another to be a model example of one. The Pylons stand as the pillars that every Hokie should live by in their life. The main pillars or values that each Hokie should uphold, according to the Pylons, are Brotherhood, Honor, Leadership, Sacrifice, Service, Loyalty. Duty, and Ut Prosim. I try to uphold these pillars of life as a student, and I think it is important for every Hokie to visit the Pylons to feel what the heart of being a Hokie should look like. To follow the pillars of the Pylons and Virginia Tech as a university is truly what makes you the upmost version of a Hokie.
Justin Cates
WUVT Studio
This is an excellent if not fairly impossible question to answer. Given Blacksburg's constant upheaval and growth, many places are completely changed from when I knew them. I have fond memories of a full service gas attendant downtown. He used to give a very young me bubble gum at an Exxon station located firmly in the present day footprint of the Kent Square parking garage. Years later I attended middle school on what's now a vacant —but soon to be redeveloped— plot of land between Clay and Eheart Streets. The neighborhood my family lived in the longest is still located behind the small shopping complex where Cook-Out is. Most of our old neighbors are no longer there and all of the stores are different. That's the way it goes. There are far too many places from my life to really narrow it down to one, but if we limit it to college I have a fighting chance.

Apart from our debauched townhouse in Pheasant Run and the occasional classroom, the most frequented location during my first few years at Tech were the similarly dingy WUVT studio and offices located in suite 350 of the Squires Student Center. There was surprisingly no sports department upon my arrival in 2004, so I formed one and promptly installed myself as its leader. At first I made a weekly appearance on Tech Talk, an NPR-style news show that suddenly had a sports element. Eventually, we annexed a full half of the hourlong Sunday show for sports chatter much to the chagrin of the news staff. I spent many Sunday afternoons there sticking to vinyl couches and discussing the topics of the previous week. Perhaps the best part of the whole affair was the unlimited access to new and often strange music that resided in the WUVT archives. I would bring my laptop in and 'liberate' albums trapped in row upon dusty row of glorious independent music. Ripping happily away, just a digital pirate in an FM world.
Pat Finn
New River in the summertime
Nothing like taking that drive down Prices Fork and McCoy Road with the windows down. Talk about a scenic ride!
Taylor Caskey
Center Street
Center Street on Game day. Pre-COVID times. There is nothing like it. Something about seeing every person you know (even from other schools) in one place wearing maroon and orange just gets you going. The vibes are immaculate and we can only pray people get to experience the thrill that is Center Street on Game day.
Grant Mitchell
The Hill
Located at the Blacksburg Municipal Golf Course, this is an excellent place to sit down for a bite to eat, peacefully knock out some work or take some photos with a clear view of the mountains in the background. The best time to take a visit is right when the sun is getting ready to set, as the views over the top of the mountains are truly staggering. Just a couple turns off of Main Street, there are plenty of places to park and benches to grab a seat on. This place is a must-see while in Blacksburg!
So, which places means the most to you? Tweet us @SonsofSatVT with your "special place," reminisce on cherished memories and pick up some destinations along the way!