Tyrod Taylor is Absolutely an NFL Starting QB
More details on the Chargers' team doctor accidentally puncturing his own quarterback Tyrod Taylor's lung just before kickoff Sunday while trying to administer a pain-killing injection to the quarterback's cracked ribs:https://t.co/IUPlMaJ65J

— Adam Schefter (@AdamSchefter) September 23, 2020
Following the insane report by Adam Schefter regarding former Hokie QB legend Tyrod Taylor having his lung PUNCTURED by the Los Angeles Charger's team doctor while administering a pain-killing treatment for his fractured ribs, two things quickly came to mind:
1. Ouch
2. Yet again, ANOTHER chapter in the unbelievable string of bad luck that has been Tyrod Taylor's NFL career
But while gauging the reaction on social media, to my surprise, the general sentiment among pundits and fans was "that's unfortunate but Tyrod is at best a career backup who was going to lose his job to rookie QB Justin Herbert anyway".

I for one, will not stand for that kind of slander and begin with this salient point so everyone knows where I stand on the issue… Tyrod Taylor is 100% an NFL starting QB caliber player.
Why do I know this?
Because context is everything and throughout his career, Tyrod has shown that:
1. He has and can continue to be a Top 15 NFL QB
2. He has continuously been handed a raw deal throughout his career
Don't believe me? Let's take a look, from start to finish.
Exhibit A – The 2011 NFL Draft – AKA NFL talent evaluators are dumb
Going back to the 2011 NFL Draft, Tyrod was the 11th of 12 QB's selected when he was finally picked in the 6th round by the Baltimore Ravens, well after some other future Hall of Famers such as Jake Locker, Blaine Gabbert, Christian Ponder, Ryan Mallett, Ricki Stanzi, T.J. Yates, Gunner Armstrong, and Nathan Enderle.

(BTW, I made up one of those names)

Also, out of every QB selected in the 2011 NFL Draft, only three made Pro Bowls, Cam Newton (No. 1 overall), Andy Dalton (No. 35 overall), and… Tyrod Taylor (No. 180 overall). A tremendous value for the QB position.

If anything, the above list serves as certifiable proof that there are a lot of stupid people running NFL franchises and more often than not, they are blindly throwing darts at a dartboard when evaluating QB talent, especially when you remember that among "experts":
1. Tyrod was only considered an athlete
2. His forecasted future position in the NFL was at WR.
Exhibit B – The Baltimore Years - AKA Money talks
Long story short, Tyrod Taylor was drafted as a late-round value pick in 2011 by a solid Baltimore Ravens team that already had Joe Flacco, who was entering his 4th season as a starter but had yet to cement his status as a top tier franchise QB.
Then came the 2012 NFL Playoffs.
After narrowly winning an AFC North Division Title, Joe Flacco went from "Average Joe" to "Playoff Joe", going on a torrid postseason run where he tied Joe Montana's single postseason record with 11 TDs, no INTs, a 117.2 QBR (his career average to that point was 84.1), and was named Super Bowl MVP after defeating the San Francisco 49ers.
That offseason, Flacco promptly signed a six-year contract worth $120.6 million, which was a record high for any QB at that time and relegated Tyrod's ceiling with Baltimore as Flacco's perennial backup.
As an aside, if your QB is the definition of league average (and Flacco was) as demonstrated through five full seasons of lukewarm on-field performance before the 2012 NFL Playoffs, and then all of a sudden he unexpectedly turns into Joe Montana for four games, some might refer to that as an outlier and my advice would be to NOT pay that person $20 million a year since he will likely revert to being "Average Joe".
Spoiler alert. He did.
Further proof that even the smart NFL teams sometimes make dumb decisions when evaluating QB talent.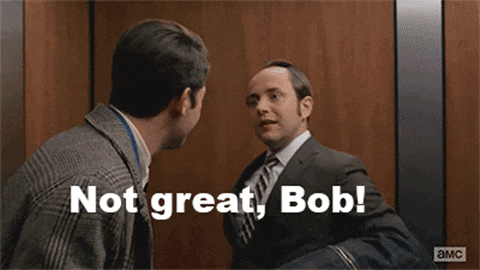 Exhibit C – The Buffalo Years - AKA The rollercoaster years
After four years in Baltimore, Tyrod became a Free Agent entering the 2015 season and ultimately signed with the Buffalo Bills as the projected third-string QB, behind top draft pick EJ Manuel and veteran Matt Cassell. However, in a not-so-surprising turn of events (especially to Hokie Nation), Tyrod was named the starter by then-coach Rex Ryan and his NFL career was finally off and running (in this case, literally).
In three seasons with the Bills, Tyrod experienced the good, the bad, and the ugly.
The Good
When you have a head coach that believes in you and a smart offensive coordinator, it's amazing how things can click. In 2015, with then Bills OC Greg Roman calling plays, Taylor was one of the most efficient players in football where he led the Bills No. 1 ranked rushing offense (Tyrod contributed 568 yards on the ground) and made the Pro Bowl (as a replacement, but hey, it counts).
The Bad
Tyrod and Roman seemed to form a great marriage of QB strength meeting the offensive coordinator's scheme. However, it soon went downhill. The next season, Roman was fired after an 0-2 start following a loss to the Jets (a game in which Tyrod thew for 300 yards and 3 TDs), Rex Ryan was also shown the door after the season, and a new head coach and offensive coordinator were brought in to change the playbook.
The Ugly
Entering the 2017 season, most players would have been dejected by the turn of events; however, Tyrod being the quiet leader that he is, still managed to lead the Bills to a winning record and an NFL playoff berth against a vaunted Jacksonville Jaguars defense which did not go well. Shocker.
And what was the biggest lowlight in 2017? One would probably point to the game where Tyrod was inexplicably benched midseason (the Bills were 5-4) for then backup QB Nathan Peterman, who promptly threw 5 INTs… in the first half.
Now, let me repeat that because it bears repeating. Peterman threw FIVE INTERCEPTIONS IN ONE HALF!
Needless to say, the bridge in Buffalo had been burned and after seeing 3 different head coaches and 3 different offensive coordinators with the Bills in 3 years, Tyrod was finally traded to Cleveland during the offseason.
The final record in Buffalo?
Tyrod was 22-20, with a net QB rating of 92.7, averaging roughly 3,000 passing yards, 525 rushing yards, and 20 TDs across his three roller-coaster seasons with the Bills.
BTW, that statistical line would have made him a Top 15 QB during the 2019 NFL season.
Nonetheless, it was time for Tyrod to go.
Exhibit D – Cleveland - AKA Cleveland
No analysis needed here. Hue Jackson, Freddie Kitchens, the No. 1 overall NFL Draft pick Baker Mayfield, and sadness.
Tyrod's tenure with the Browns in a nutshell...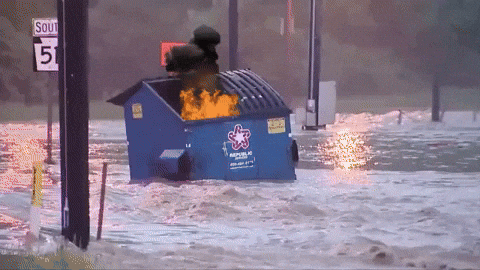 Exhibit E – The Los Angeles Chargers - AKA The last straw
Brought in as a backup to veteran starting QB Philip Rivers, Tyrod signed a solid deal with the Los Angeles Chargers at 2-years and $10 million during the 2019 offseason, where he was valued as a high-end insurance policy for Rivers who was reaching the end of his career.
For most, it seemed as though the insurance policy was going to pay off as the Chargers witnessed Rivers essentially play his way out of Los Angeles by putting up one of the worst statistical seasons of his career. Going into the offseason, Los Angeles was more than happy to let an aging Rivers walk in Free Agency as time expired on his previous 4-year $84 million contract and hand the reigns over to Tyrod, right?

Wrong.
In another rerun of Groundhog Day, the Chargers drafted QB Justin Herbert with the No. 6 overall pick in the 2020 NFL Draft, meaning once again, Tyrod was an incumbent veteran starter for another team that had already planned his replacement before getting a chance to play.
This time his chance didn't even make it to Week 2. The Chargers did Tyrod dirty.
So where does Tyrod go from here?
Listen, I'm not saying Tyrod is elite. He's not.
But few NFL QB's are, just ask Jets fans.
What I am saying is that he absolutely deserves to start AND that context is everything, which in this case the ONE time Tyrod was paired with a smart offensive coordinator, he was a Top 10 QB that put up league-best efficiency stats on his way to the Pro Bowl.
BTW, that OC was Greg Roman, who after being fired from Buffalo is now crushing it with Lamar Jackson on the Ravens, further proving that NFL teams are generally not smart and terrible talent evaluators, considering Jackson was another undervalued player coming out of college that was told he couldn't play QB in the NFL.
So who across the NFL landscape is smart, can scheme to highlight Tyrod's strengths, has a 'win now' roster, and QB uncertainty going into the 2021 season?
Well, that list is very small, but I did notice that San Francisco QB Jimmy Garoppolo has a bad ankle and a Dead Cap salary hit that drops to nothing after this season… just saying.