Week 9: NC State Game Preview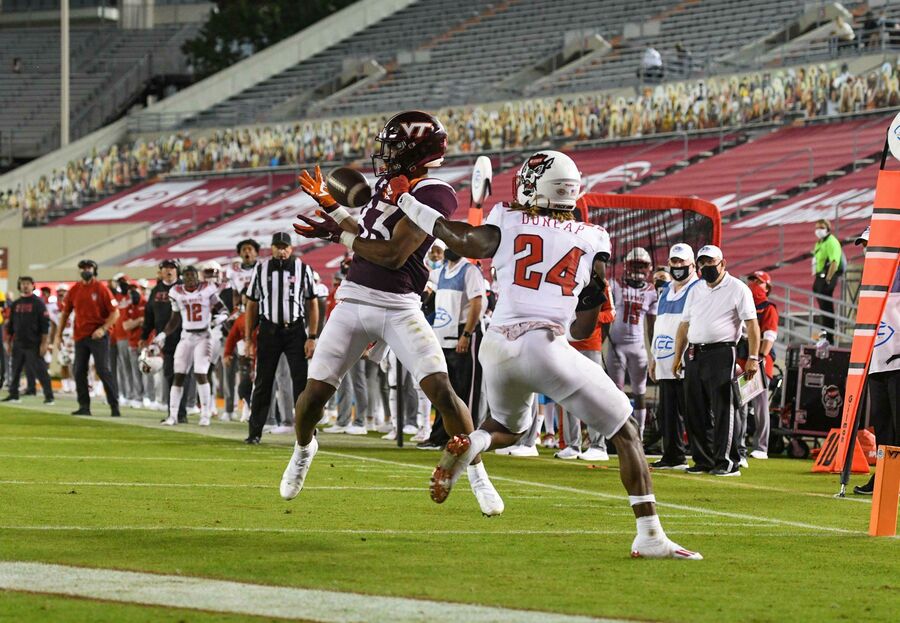 Virginia Tech showed showed some real guts in their last outing against Miami. They never quit and nearly pulled of a 20 point 4th quarter comeback. That performance demonstrated to Hokie Nation that this team is not going to quit on the season. At the beginning of the year, the game against NC State seemed like a very difficult game to win. However, Wolfpack QB Devin Leary was knocked out of game action for the rest of the season against Florida State a few weeks ago. The back up, Jack Chambers, is not the same type of passer that Leary is. Fortunately, Virginia Tech has a game's worth of film on Chambers against Syracuse. Here is what the film has said about NC State.
NC State Offense: Scheme - Multiple
The NC State offense looked much different against Syracuse than it had all season without Devin Leary. Jack Chambers is much more of a threat on the ground than throwing. Against Syracuse, State used lots of pistol formations with more than 1 running back. Their 2 main running plays are read option and toss sweep out of the shogun. They also ran a running back screen multiple times. With Chambers in at QB, the Wolfpack are a run heavy offense. Because Chambers struggles to throw accurately down the field (averaged 5.3 yards per completion), it is very important for them to end up in 3rd and short situations. Therefore, the key for Virginia Tech defensively will be to key on the run on 1st down in order to force 2nd/3rd and long.
Two more big keys defensively for the Hokies will be to stay disciplined in their pass rush lanes and to put a spy on Chambers. Virginia Tech CANNOT allow Chambers to escape the pocket. Scrambling is where Jack Chambers is the most dangerous. NC State's offense struggled particularly in the red zone against Syracuse because Chambers is not capable of fitting the ball into tight windows, which is necessary in order to score inside the 20. Syracuse also put a spy on Chambers in the red zone to prevent a scrambling touchdown. The Wolfpack were forced to kick 3 field goals due to this strategy. So, the three keys are win 1st down by stuffing the run, keep contain with the pass rush, and spy the QB in the red zone.
NC State Defense: Scheme - 3-3-5
The 3-3-5 is a rare scheme for a defense. In order for it to work, you need 3 good defensive linemen. They have exactly that. NC State's defensive line is BIG and they are magnets for double teams, which frees up their fast linebackers to make tackles. In this game, it would be unwise to run up the middle. That is the strength of this defense. To move the ball on the ground, Tech needs to use misdirection in order to fool the linebackers. Making fast linebackers hesitate is important to buy time for the blocks to develop. They also need to run outside and run Grant Wells often. NC State has struggled against mobile QBs this season. Trying to run straight up against this defense will not work. Clemson and Syracuse had the most success running when they used both their running backs and QBs in the running game. Wells will need to make plays with his legs.
The good news for the Hokie offense is that because NC State's defensive line is more of a big run stuffing type of unit, that means that they struggle to get pressure on the QB without blitzing. Grant Wells should have plenty of time to throw. State also plays lots of man to man coverage. So, the key will be to find the right matchup, especially for Kaleb Smith. This defense does not give up many deep passes. So, Wells will have to be patient and simply complete short passes. NC State has one of the top scoring defenses in the ACC. Grant Wells will have to have a good (and efficient) game in order to win.
NC State Special Teams
There is not anything of real significance about the NC State special teams units. I will just note that Virginia Tech's punt return unit needs to improve to get the Hokies some better field position. Because Tech will likely have to be methodical on offense, they cannot lose the field position battle and expect to win. Points will be at a premium in this game. Therefore, winning the field position battle is a big key to victory.
Prediction
This game is going to come down to the red zone battle. Neither offense has looked great in the red zone. I believe this will be a battle of field goals. Whoever can make a play and just get 1 touchdown will emerge victorious. I think Tech will copy what Syracuse's defense was able to do in the red zone to Jack Chambers. Brent Pry will call his best game yet defensively for Virginia Tech. This will be a low scoring battle in which Tech will win by the score of
Virginia Tech 19
NC State 12